1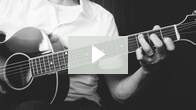 We are taking the basic C shape, with the pinky added on the 1 string, and moving it to where it sounds good.
In the first video, we are figuring it out. I've located the good sounds (positions).
Before watching the video, try this, position by position. See if you get the same answers (the positions we play in the video).
---
Strum It
In the second video, we strum the good sounds. These are the sweet sounding, consonant positions again (did you get the same answers?).
Try the voicings to play a common progression (any I-IV-V type) as well.
For this set based on moving the C shape, we add the pinky on string 1 in the same fret space as the 3rd finger. It is a tone of each of the triads [the 5th] & increases the number of chords which are consonant [high open E sounds good only in some locations].
Since we mute string 6 with our thumb, this leaves only the 3 string open. The consonant [agreeable] chords in this group are all sweet harmonies. If we were to mute the 3 string, all positions would work, they just sound a bit hollow and aren't always easy to mute string 3.
The open G means something to each of the chords. It's relationship is shown below the tablature and is included in the video. We didn't include the true name of each chord above the tab [just the root], but do show them in the video. For most of these chords, these voicings will work for the chord name [style & level of appropriateness, dependent].
By learning 'higher' versions of chords, we are not only expanding our chord options, but we are also learning chords to use when others are playing the 'normal' versions of chords. By playing different voicings at the same time, we are expanding and adding to the sound rather than interfering with the exact version of a chord that others are using.
This is a good skill to have and seems to have global appeal.
---
EZ C Form Scary Movie Sounds
The 'scary movie' sounds are in between the chords above, as demonstrated in the first two videos in the player.
The 'scary' sounds are quickly demonstrated in the 3rd video in the player above.
They can sound interesting when fingerpicked or arpeggiated, but for strummers, they are a wreck.