You also might be interested in
So the idea for our mapping: for Em/G, frame 1 is at the nut. So, we learned frame 2 next. For Am/C, frame 1 is in P5. In this lesson, we learned frame 5 [moving toward the nut]. Looking ahead: frame 4 for Am/C is at the nut, and we will learn it in our next Am/C session. The next Em/G session will be frame 3. At that point, all frames are in play [between Em/G & Am/C], and we can start to see how the whole system works for both keys. We will continue to map these keys, frame by frame, then move the system to different keys. Wave by wave.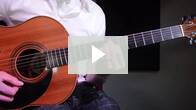 This video block has 4 videos: Fingering 1, Fingering 2, Strum It, & a Progression.
All of the chords are in the key of E Major [I, IV, V are Major; ii iii vi are minor; vii
o
is diminished]. We will leave the 6, 2, & 1 strings open for all of them. By leaving some strings open, we are adding non-chord tones to some of chords, but we won't be too concerned with exact naming. The chords work for the name [this is, of course, style dependent - these might fall under 'pretty-style']. This chord group is also ideal for
fingerpicking training
.
We first get the chords in our hands. We have options for fingerings. Both work well, and are demonstrated in video 1 & 2 [fingering 1 & fingering 2, respectively].
Strum It
This is the 3rd video in the player above.
Once we have the chords in our hands, we play the chord scale. We suggest strumming it first. Ascend and descend. Always plan the next chord before moving. See it. Pre-feel it.
Progressions
Next, a couple of sweet sounding progressions. If either of these work for one of your songs, use them.
This progression is played in the 4th video in the player above.
And another.
And, as always, make up your own. Write them down. Experiment.
A quarter note can be divided into two 8th notes. We count 8ths 1 & 2 & etc. 8th notes are twice as fast as quarters.
Play this first with counting aloud, then play it again, counting subvocally. Plan ahead. Be exact. The challenge is switching back and forth between 8ths and quarters. Make sure that you can recognize three different E's; low, middle, and high. See the note-head locations in your mind. Low E is -4 space, Middle E is Line 1 [the bottom line of the staff], and High E is Space 4 [the top space] = Space, Line, Space.