You also might be interested in
These are our 3 widest process areas for scales (tone groups). Each of the following points can be done in endless ways. And, in 3 minutes, we can hit all three. For any and every scale [tone set] that we work with, we do 3 things. I suggest always training first, then work on improvising and chord building.
First, we train with the scale [what I call playing 'alpha-tone order']. This means we play it from lowest to highest tone, then highest to lowest, applying different technical, mental, & musical considerations. At base level, we play everything 8ths notes around 90-100 to the metronome. To get solid with different rhythms, we can choose a new rhythm to train, for new scales we learn. See "List of Choices for Training" below for more options for training.
Then, we improvise/jam with the tonal material. This means that we tinker around melodically with the tones.
We also think in terms of building chords. Each tone of a scale can be a root of a chord. Chords can be played as blocks &/or arpeggios. Once we have working versions, we can improvise chord progressions as well. This provides a solid process basis for songwriting.
We can also include double & triple stops [2 tone and 3 tone chords which may or may not be triads].
For a heptatonic scale which is on a single string, the chords built in thirds would have to be played as melodic arpeggios. Here's a session on this.
Throughout the path, these points will guide us. Our job is to apply new devices to training, jamming, & chord building.
Choices for Scale Training
We have decisions to make when we sit down to train with scales...
What key or set of tones? See the Circle of 5ths or Lines of 7.
Use a specific pattern (a limit)? Or, the whole board?
In what rhythm?
The sequence...single or repeated tones, tone order? Pick each once or twice (or more)? Play in a sequence, such as 1-2-3, 2-3-4, 3-4-5, etc.
Tempo. How fast or slow? At base level we play all scales in 8ths, around 90-100 on the metronome.
How to pick it? With a pick - alternating, etc. Or, fingerpick...free/rest, i-m or i-a, etc.
Track Two provides more challenging changes, but still has some easy changes as well. Two's starter group [G-Cadd9-D-Em] can also be a solid starting point for some beginners. When we can play the changes in this first group, we can play 1000's of songs.
The map above is clickable. This page works with just the first group: G-Cadd9-D-Em. Part 2 of Track Two has the other changes.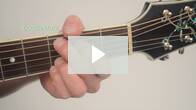 This video player has all of the changes in 2.1, in order. Going in order is suggested. The tablature and instructions for the changes are below.
G-Cadd9-Em-D
This can be a solid starting chord group for a few reasons. First, we are utilizing all four fingers for the G and Cadd9. Second, when we are successful with changing these chords, keeping the changes in time, we can play 1000's of songs. And, knowing these voicings, plus a capo, increases the number of playable songs considerably.
If these prove too challenging at the start, circle back to them after going through Path I [circling back at any time]. And/or, try to simplified versions of the G and Cadd9, where we leave off the pinky. For the tablature, lines are strings, big numbers are frets, little numbers are fingers. Practice fretting these chords. These are the suggested fingerings.
C Major
It is okay to use a normal C chord for this group as well, yet all of our tabs which use a C type chord will demonstrate the Cadd9. In most songs where one of these two chords is written [either C or Cadd9], they are interchangeable, depending on the sound we are desiring to hear. It is okay to use Cadd9 even when a C is the chord written on a lead sheet [and vice versa]. Cadd9 is named such because we have added the 9 [D tone on 2 string, fret 3] to a C triad. If an E wasn't present in the C chord while the D is present, it is typically called a Csus9. sus = suspended [we would have suspended the E - the 3rd of the chord down to a 2 - a D tone].
To see other ways to play these chords in all positions, 
check out G-Em-C-D in 5 Positions
.
Easier Versions
G
» For the first G, we have left off the pinky [the 3 finger will mute the one string].
G
» For the second, G5, the pinky is off, & the 2 fret on string 5 [B tone] has been left out. The 2 finger will mute the 5 string. The chord's name has changed because the B tone is the 3rd of the chord. Normal G is G-B-D [Root-3rd-5th]. The B not being present only leaves G & D tones. This makes it G5. It can be used as a G. G5 = GD tones [No 3rd, B].
Cadd9
» Like the first G, we are leaving off the pinky.
D
» For the D, we have left out the 2 fret on string 1. This tone is F#, which is the 3rd of the chord. Therefore, it is D's and A's only, so it is also a Root-5 [R5 = DA tones] called D5. It can be used in place of a D chord.
Em
» The Em shown isn't necessarily easier, we are just indicating a different fingering. Which fingering we use for Em is based on preference & context. I actually prefer this fingering most of the time. These fingerings are available anytime for any of the chords, wherever they appear. And, they are actually commonly used. Next, let's focus on each of these changes.
G to Cadd9
2-1 fingers up and down a level.
Our first change in this group is G to Cadd9. This is a Lift & Land type of change. We lift moving fingers on the & of the 4 beat, and land on the downbeat of 1.
This change shouldn't pose too much of a challenge. The 3 & 4 fingers stay, while the 2 & 1 move up and down a level. When we say level, we mean strings. The 3 & 4 can lift to a touch during the lift & land.
Isolating the Switch
We strum the change until we have it. Repeat it as many times as needed until you are totally comfortable with it. If holding the pinky proves too challenging at the start, leave it out as shown on the 'simplified' tab. You could always take this a step farther, and just practice the 1 & 2 fingers moving up and down a level [the chords would then be G6 and CMaj7], then add the 3 & 4 fingers back into the mix.
When we lift on the and of 4, and strum [make sure to strum], you may hear some open strings. This is okay, & can create an 'effect'.
G & Cadd9 to D
We are doing 2 pairs, and they are similar. They are both Lift & Lands. We can really work them in either order [when strumming the change, do each multiple times until you have it - work it in sets of 2 chords - this is the method].
Get the change for one & the other basically happens. It is just a matter of going 'a little further' or 'a little less far'.
G & Cadd9 to Em
We are doing 2 pairs, and they are similar. We can really work them in either order [when strumming the change, do each multiple times until you have it - work it in sets of 2 chords - this is the method].
For the E minor to G, we have chosen to finger the E minor with the 1 & 2 fingers so that we have a staying finger. For the E minor to Cadd9 have chosen to finger the E minor chord with the 2 & 3 fingers so we have a guide finger. You may want to practice going from Em to Cadd9 with Em fingered with 1 & 2 as well.
D to Em
This one should fall into the hand easily.
If you have gone through all the changes & have landed here, this change should fall into the hands with relative ease.
Notice that the 1 & 2 fingers move to the same fret space, in the same configuration, just with a different string spacing. In the video, we also make the switch with 2 & 3 fingers playing Em.
next plate
.
A chord progression is a stream of changing chords over time. We can call a progression, changes. We write the chord symbols (we are using E5, A5, & D5) above a line with the rhythm [or melody/lyrics]. Use a down-strum to play these chords. For every slash mark, hit the chord once [what are called quarter notes] or hit them twice [what are called 8th notes - strum down-down or down-up]. We cover quarters and 8ths in this lesson.
Play this progression until you have the transition between the chords (plan ahead), while keeping it in time (playing the beats evenly).
Personal process is at the center of our work. Playing by feel while integrating max-data, is the plan.
Guitar Beginner covers much of Base.