G Chord Form Basic Mods
Basic mods include GMaj7, G7, Gm11, Gm, Gsus9, G9.
You also might be interested in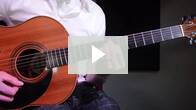 This video block has 4 videos: Fingering 1, Fingering 2, Strum It, & a Progression.
All of the chords are in the key of E Major [I, IV, V are Major; ii iii vi are minor; vii
o
is diminished]. We will leave the 6, 2, & 1 strings open for all of them. By leaving some strings open, we are adding non-chord tones to some of chords, but we won't be too concerned with exact naming. The chords work for the name [this is, of course, style dependent - these might fall under 'pretty-style']. This chord group is also ideal for
fingerpicking training
.
We first get the chords in our hands. We have options for fingerings. Both work well, and are demonstrated in video 1 & 2 [fingering 1 & fingering 2, respectively].
Strum It
This is the 3rd video in the player above.
Once we have the chords in our hands, we play the chord scale. We suggest strumming it first. Ascend and descend. Always plan the next chord before moving. See it. Pre-feel it.
Progressions
Next, a couple of sweet sounding progressions. If either of these work for one of your songs, use them.
This progression is played in the 4th video in the player above.
And another.
And, as always, make up your own. Write them down. Experiment.
We previously moved a fragment of this chord shape. Now, we are going to build a full version = add the 3-2-1 strings.
The chord components (R-3-5) are included. We get to memorizing these, as they are the basis for modifications (mods). To play this full version, we will use a bar [barre]. In guitar fingerings, when we fret the same fret, on different strings, at the same time, this is a bar. Like the word 'fret', 'bar' is a noun and a verb [and means other musical things - see notation and 12 bar]. When we bar, we can press the whole fret space, or only some strings. We don't have to press all 6 strings. Every chord, especially a bar type, has a hand shape [angle, points of pressure]. Any bar can be a hinge bar [I believe all bars are]. Hinge bars are toggling tones within a bar. More on this later. For this chord, we press the tip of the 1 on the 6 string, used a curved finger, and press just the 2 and 1 strings with the middle knuckle. This conserves hand power. To get into this bar shape, we can lay our 1 finger across the nut [using 3, 4, and 2 fingers fretting 5, 4, and 3 strings respectively for fretted tones] as it will cover all the stings once we move it [this will be barring]. We don't have to do this ['bar the nut'], but it definitely shows us how this chord is structured, and gives us a movable fingering.
An example: at fret 5 for an A form, the index will be at a D tone, so the chord will be D Major. Every flat name has a sharp equivalent [enharmonic, same thing, different name]: A flat = G sharp, B flat = A sharp, D flat = C sharp, E flat = D sharp, G flat = F sharp. Yet, for Major type chords, all of them are typically flat names except G flat/F sharp, where both are used.